Drum roll, please! NaNo is OVER. Actually, it's been over for eight days – but as soon as NaNo ended, I was thrust back into busy life and just now managed to finish this post. So, without farther ado, here is my last week of NaNo!
Day Twenty Two: 3,350
I WON NANO! Jump reached 50,000 words – and no, I didn't have to stay up to 12 AM to reach the goal. 😛 I celebrated with my family, some Oreo mud pie, and I'm now back at writing. This novel isn't finished yet! God is SO amazing!
Also, my Mamaw and Papaw Jim came up today! They're staying for Thanksgiving, but also will stay with us while Mom and Dad go to Maryville.
Day Twenty Three: 227
THANKSGIVING! WHOOT! I ate a ton (big surprise, ha) and hung out with my family. Also took a nap (and naps are always better with music + earphones, y'all…). We went shopping also, which was fun and not quite as crazy as last year…
Day Twenty Four: 1,348
Along with writing, this month I've also been helping my Mom and Tory do their business. They did a party today and it was awesome. =D If you want to check out the jewelry they're selling, here's their FB link.
We also went Black Friday shopping again, which went well… as the above photo says (Mom and I took the kiddos out to the car… those check out lines are long…), we had a blast.
Day Twenty Five: 435
Didn't write much today but I'm not worried about that… I am a bit nervous because my parents are leaving for about a week for the Sunshine Clinic… and I've never been away from them for such a long period of time. Actually, I've really never been away from them… and yep. It's a bit nerve racking but I'm praying through it, haha. I have total faith God will heal them while they're at Dr. Sunshine's!
On a less anxious note – check out my nieces Rey and Laney… I think they have crushes. ;D Hey, it is hard to resist a guy in uniform, right?!
Day Twenty Six: 3,500
I wrote 3,500 words and it was a surprisingly long haul. Heh. As in, the days I wrote 5k went faster than this 3.5k… but, I'm not complaining! The words are out. 😉
And yes, first day without my parents… And we're all still alive. o-0
Day Twenty Seven: 2,100
My grandparents, siblings, nieces, and I went shopping! Whoohoo! So, if y'all wanna know how NaNo's going… Tory and I are on a face chat with Mom and I'm bouncing up and down… Mom, jokingly: "Are you on drugs?" Me: "I'm on caffeine."
Day Twenty Eight: 400
AND MORE SHOPPING – in a bigger city! Which was a LOT of fun (I got Christmas presents! I mean, I know what they are… wrapped 'em myself… but I still got presents. =D ) and we all had a blast. Also ate yummy Panda Express (thanks, Papaw!).
Day Twenty Nine: 2,400
Where has the month gone… because wow. JUMP has been amazing so far and I just… my babies. These characters. The things they show me and make happen and I'm just like: I wasn't planning this but IT WORKS.
I love this story. It's occasionally *cough* a lot *cough* frustrating, oft times confusing, but always worth it. Does anyone else have those moments where gosh, these characters are real… and they're hilarious and heartbreaking… because I love those moments.
Day Thirty: 1,400
Alas, the adventure has come to an end. With a loud BANG, I announce… NaNo is over. Finished. Completed. Whew.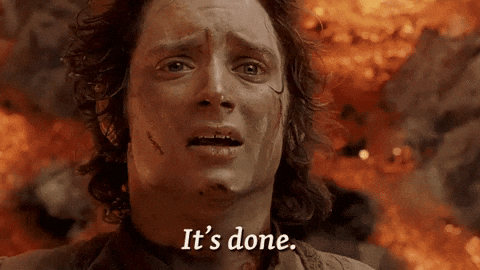 OK, OK, I am being totally over-dramatic because for my first NaNo, I am very grateful to God because I don't quite feel like Frodo at the moment, haha! I feel more like this… though I can't dance quite this well, ha.
I completed NaNo by winning on the 22nd at 50,000 words and finishing the month at 62k! JUMP is not over, however. Like I've said, the first draft neared 100k, and while a lot of things have changed in draft two, I think it'll be just as long – if not longer… I'm really not sure. Ah.
Snippets
 Rene' groaned again, feeling something tight around her arm. She jumped in fear, but Sam's grip tightened. "Gah!"
 "It's me, Rene'!" Sam whispered quickly. Rene' didn't pull away, fear in her chest, eyes wide – but she saw nothing.
 "Isaac?! Isaac!" she gasped wildly, swinging her hands around to find him. Derek grunted as he moved, trying to follow the voices – but he hit a body. Isaac lurched upright and swung at Derek.
 "Isaac!" Derek groaned in pain as Isaac punched him in the gut. Isaac grasped Derek's arm sloppily in dismay.
 "Where are we?" he asked sharply.
 "No one freak out. Do not freak!" Sam ordered firmly, over the heavy breathing and words. Everyone freaked anyway. "Guys!" Sam shouted. Everyone shut up.
~~~
They fell silent, wrestling with their fears, each step careful and precise. Rene' almost tripped once, but Sam and Isaac both grabbed her up. She whispered a sorry, but they kept going.
  Kept going where, though? They didn't know. But it didn't matter so much as to where they were going, did it? Maybe they were pushed by fear of staying in the dark forever – but as long as they moved…. They'd be fine. Right? They had to get out. And to do that they had to walk.
  Or crawl. Whatever worked.
  It was then they found the path came to an end. A stone wall came before them and Derek groaned, their flashlights scanning.
 "Wait." Rene' whispered. "Look…"
 Tunnels.
~~~
I'm dead, I'm dead, I'm dead I'm dead I'm dead. Oh, God, I don't wanna be dead! Derek's eyes shot open but only darkness surrounded him. Heaviness. His head pounded quickly and his heart ran wild. He could scarcely seem to breathe, and his body felt numb. Empty.
He was surrounded by thick nothingness. Nothing… he was dead. He had to be.
And then suddenly a throb of pain swarmed through his body, like his mind had finally made the connection. He gasped and writhed. This isn't being dead – this hurts! Being dead doesn't hurt!
If Derek wasn't dead, that meant… "Isaac?!" he groaned, but his voice came out all slurred and broken.
A soft moan came through the darkness.
~~~
Scripture Of The Week
Don't be afraid; just believe. – Mark 5:36
This November was a crazy month for me – and I wrote over 60,000 words during it. It was an amazing journey to participate in NaNo! God showed me a lot and moved my heart in more than one way. I am very blessed to have a Lord who loves me, a family who loves me (and they all put up with my crazy writing endeavors… ahem…), and the wonderful friends who also rocked me on this month (word wars are epic, y'all. I got over 800 words in 10 minutes once o-0). God bless you all!
God bless you all, and MERRY CHRISTMAS!
– Angela
ARE YOU EXCITED FOR CHRISTMAS?!
Did you like my snippets?
How did your NaNo go? I wanna know ALLL ABOUT IT!